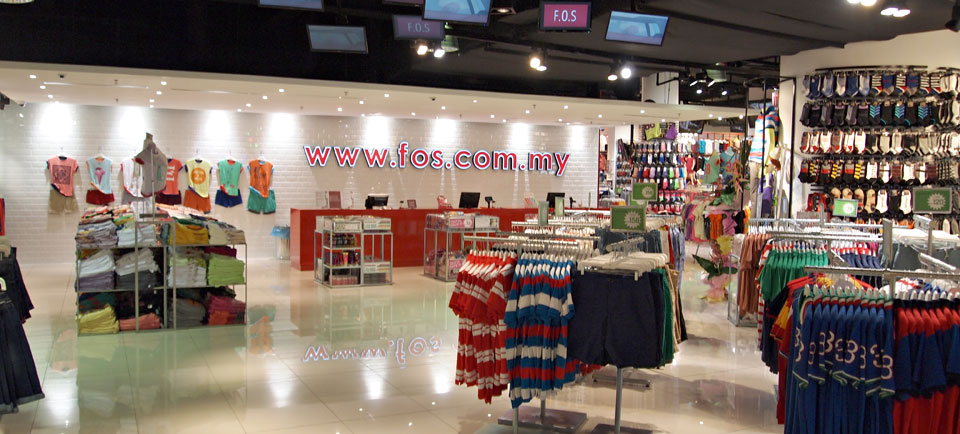 Corporate Info
F.O.S is an established clothing retail chain that specializes in affordable quality apparel. The inaugural opening of its outlet in Sunway Pyramid in 1997, during the infamous economic crisis in Malaysia, marked the birth of F.O.S.
From that single outlet in Sunway Pyramid, F.O.S has grown to a total of more than 65 outlets to date throughout major shopping complexes located in the Peninsular as well as Sabah & Sarawak. Our number of outlets is constantly growing with the opening of each new major and exciting shopping complex throughout the country.
It is a little known fact that F.O.S is locally established. In fact, people are astonished that F.O.S is of local origin and very much home grown.
The success story lies in the very concept of F.O.S itself. A wide range of clothing and accessories are made available at an affordable price at F.O.S.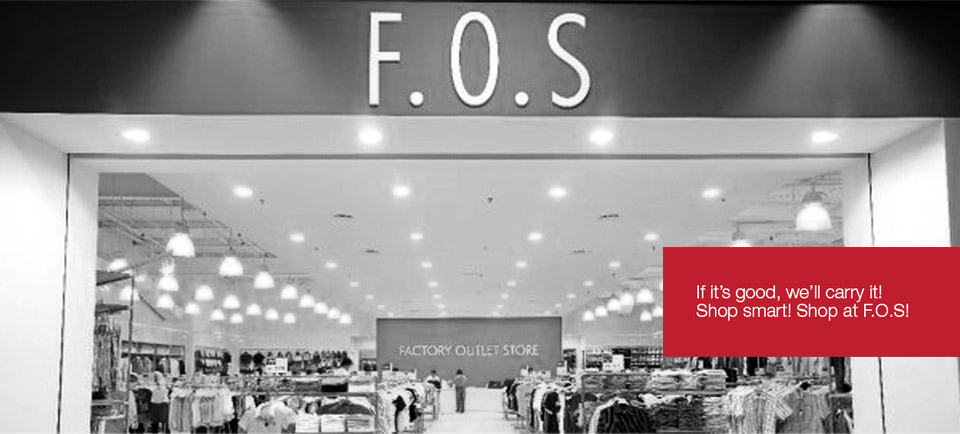 History
July 2006 marks the opening of our first ever outlet that is more than 10,000 square feet (3,048 square metre) in total floor space area in Mid Valley Megamall. The idea behind this is to portray F.O.S in its entirety. As such, they are known as mega size stores.
With a much bigger selling floor space, we are able to provide and display more merchandise in a store. Customers are able to find almost all their apparel needs, from top to toe, for the entire family in a single F.O.S mega store.
F.O.S mega stores are equipped with plasma screens that feature the latest international music videos, in-house promotional advertisements, 24 hour recorded CCTV security, as well as updated customer greetings.
Mannequins dressed up in the newest arrival merchandise are prominently displayed on showcase displays and on display tables throughout the store. These mannequins provide an eye catching and attractive means of educating customers on how to mix and match the merchandise available in F.O.S and also to encourage customers to buy.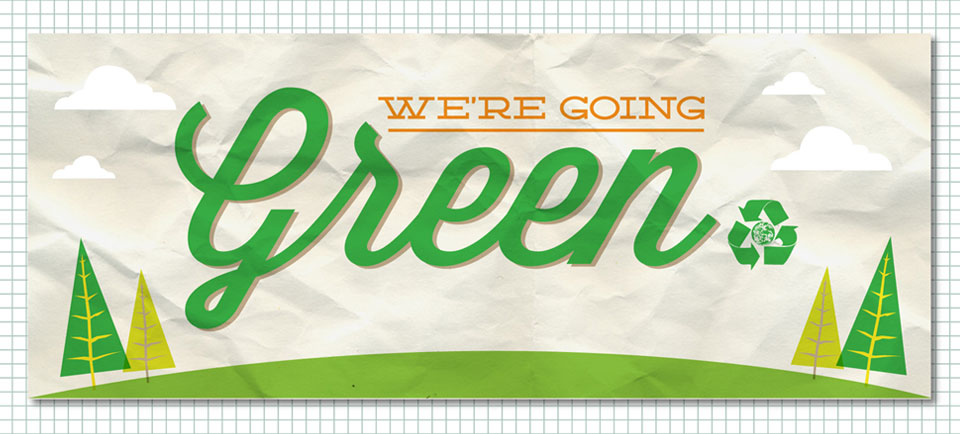 We're going green
Our plastic bags are now oxo-biodegradable.
That means, the plastic bags will start degrading once it is triggered by heat &/or UV light.
This helps reduce waste, takes up less landfill space, assists in the reduction of greenhouse gases & conserves the environment for future generations.
You can reuse & recycle our plastic bags until noticeable breakdown.
How does it work?
Totally Degradable Plastic Additives are blended into the commodity PE, PP, PS resins during production to impregnate the plastic with special degradation properties without impacting productivity or product integrity.
After use, when product is disposed of to landfills, compost sites, arable land, or inadvertently as litter, these product undergo oxidative degradation much more rapidly than ordinary plastics.
Mechanisms that trigger this process are heat input, sunlight (UV light) and mechanical stress.
For PE products in the presence of moisture, microorganisms, oxygen, and soil these products will ultimately biodegrade (per ASTM D6954-04).
Why oxo-biodegradable plastics?
Reduces landfill volume
Reduces greenhouse gas effects
Minimizes organic waste emtombment
Environmentally responsible
Easy implementation & adoption
Reduces plastic pollution
Non-toxic residues
Environmentally friendly
Carbon retention in soil
FDA compliant applications
Recyclables
No Plastic Bag Days at F.O.S
Kedah (Fridays & Saturdays)
Melaka (Fridays & Saturdays)
Dataran Pahlawan Melaka Megamall
AEON Bandaraya Melaka shopping centre
Penang (Everyday)
Gurney Plaza
Queensbay Mall
AEON Bukit Mertajam
Sabah (Saturdays, Sundays & Mondays)
1 Borneo Hypermall
Center Point Palm Square
Suria Sabah Shopping Mall
Selangor (Saturdays & Sundays)
1 Utama
AEON Anggun Rawang
AEON Bukit Tinggi
AEON Cheras Selatan
Empire Shopping Gallery
Genting First World Hotel
IOI Mall
Setia City Mall
SStwo Mall
Sunway Pyramid
The Curve
The Mines Shopping Fair
KLIA2
All Other Outlets Nationwide Saturdays Only
You are highly encouraged to bring & use your own bag while shopping at our stores!
RM0.20 will be charged for each plastic bag requested. All proceeds will be donated to various causes, charities, foundations, orphanages & welfare homes.